COLOMBIAN EMERALDSSMARAGDEالزمرد祖母绿ÉMERAUDESברקתपन्नेSMERALDIエメラルドSMARAGDENSMARAGDERزمردИЗУМРУДЫมรกตZÜMRÜT CERTIFIED
Oval cut Colombian Emeralds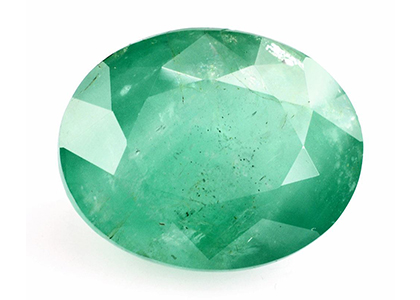 Bursting with brilliance and fire, the Oval Cut emerald is an exceptional choice for those wanting an exquisite, unique emerald. Ovals are considered fancy shapes for faceting. They take more work to cut than a round.
The Oval cut was created by Lazare Kaplan in the late 1950's – early 1960's. It presents with an elliptical shape when viewed from the top, and can be described as a hybrid between round and marquise shapes. Crafted with 69 facets, it is a type of a modified brilliant cut, which offers its wearer the brilliance and fire of a round cut gemstone, in a more unique shape. Its elongated silhouette is an added advantage, because it creates the illusion of a larger gemstone,
Oval Cut Emeralds are emeralds cut in a round or oval shape. We sell certified Colombian oval cut emeralds, which vary in weight, color and glass. We are able to provide oval cut emeralds ranging from 1 carat to 150 carats or more depending on our stock.
Prices vary depending on: Weight, color and glass.
Manager
WE HAVE ALL THE EXPERIENCE TO OFFER CERTIFIED EMERALDS OF VERY HIGH QUALITY AND 100% NATURAL AT THE BEST PRICES.
Please indicate the qualities of the emerald of your preference, our priority is the total satisfaction of our customers
KNOW OUR EMERALDS CUT EMERALD CUSHION OVAL DROP HEART CABOCHON ELONGATED FANCY BAGUETTE ROUND SQUARE PEAR