COLOMBIAN EMERALDSSMARAGDEالزمرد祖母绿ÉMERAUDESברקתपन्नेSMERALDIエメラルドSMARAGDENSMARAGDERزمردИЗУМРУДЫมรกตZÜMRÜT CERTIFIED
Cabochon cut Colombian Emeralds
Cabochons have a smooth surface, rounded without facets. The bottom of the stone is flat or almost flat.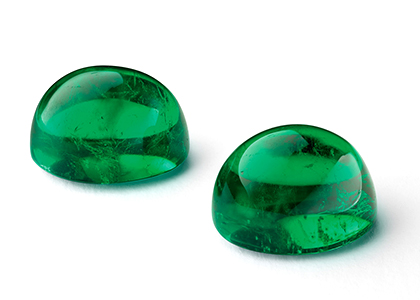 Cabochon Cut The emeralds have a round shape and are rarely perfectly circular. We sell certified Colombian emeralds cut in Cabochon, which vary in weight and color. Cabochon Emeralds are generally opaque. We are able to provide cut Cabochon emeralds ranging from 1 carat to 250 carats or more. Cabochon cut emeralds are less likely than clear emeralds.
A cabochon, alternatively known as "cab", is simply a polished gemstone without any facets. It has a flat bottom and a slightly rounded top. The traditional Cabochon cut is oval in shape, but any shape can be cut Cabochon style. The term originates from the French "caboche", meaning head.
Gemstones shaped and polished "en cabochon" date back to early Judaic, Greek and Roman time periods. Cabochons surged in popularity in the late 13th – early 14th century in Europe, well before the advent of modern cutting technology and knowledge of faceting. In fact, this was the only gem fashioning available for a long time other than using gems in their natural crystal shape. Even though today most jewelers prefer faceted styles, certain gemstones are still cut "en cabochon".
Keep in mind that the larger the emerald, the less likely a clear emerald will be.
Manager
WE HAVE ALL THE EXPERIENCE TO OFFER CERTIFIED EMERALDS OF VERY HIGH QUALITY AND 100% NATURAL AT THE BEST PRICES.
Please indicate the qualities of the emerald of your preference, our priority is the total satisfaction of our customers
KNOW OUR EMERALDS CUT EMERALD CUSHION OVAL DROP HEART CABOCHON ELONGATED FANCY BAGUETTE ROUND SQUARE PEAR