COLOMBIAN EMERALDSSMARAGDEالزمرد祖母绿ÉMERAUDESברקתपन्नेSMERALDIエメラルドSMARAGDENSMARAGDERزمردИЗУМРУДЫมรกตZÜMRÜT CERTIFIED
Cushion cut Colombian Emeralds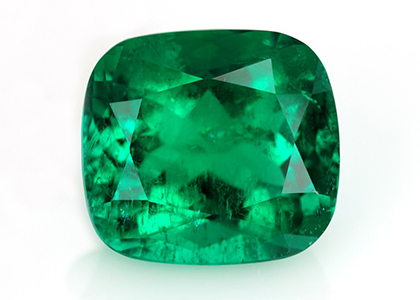 The cushion cut's versatility and variety offer the chance to get creative, so explore your options and consider your personal style.
Once referred to as "Old Mine Cut" or "Old European Cut", this cut presents with approximately 64 facets and offers a basic square shape with gently rounded corners, making it look like a couch cushion. It may also be referred as a "Pillow Cut". Just like a Princess cut, this cut maximizes utilizing the raw gem in the best way possible to avoid waste while simultaneously maintaining fabulous gem luster and brilliance. This traditional cut has been around for 200 years, and has been the industry standard before the start of 20th century.
Cushion cut emeralds are cut emeralds similar to the shape of a cushion, which vary in weight, color and crystal. We are able to provide cushion cut emeralds ranging from 1 carat to 150 carats or more. Depending on our stocks. Only the highest quality emeralds cut into cushions are less likely to find a cushion cut enamel that weighs more than 50 carats. Emeralds cut into cushions range in color from DARK GREEN to MIDDLE GREEN and have a CLEAR CLEAR MEDIUM.
Keep in mind that the larger the emerald, the less likely a clear emerald will be.
Manager
WE HAVE ALL THE EXPERIENCE TO OFFER CERTIFIED EMERALDS OF VERY HIGH QUALITY AND 100% NATURAL AT THE BEST PRICES.
Please indicate the qualities of the emerald of your preference, our priority is the total satisfaction of our customers
KNOW OUR EMERALDS CUT EMERALD CUSHION OVAL DROP HEART CABOCHON ELONGATED FANCY BAGUETTE ROUND SQUARE PEAR