COLOMBIAN EMERALDSSMARAGDEالزمرد祖母绿ÉMERAUDESברקתपन्नेSMERALDIエメラルドSMARAGDENSMARAGDERزمردИЗУМРУДЫมรกตZÜMRÜT CERTIFIED
Heart cut Colombian Emeralds
Heart and pear shaped gems are fancy shapes that take even more work than ovals.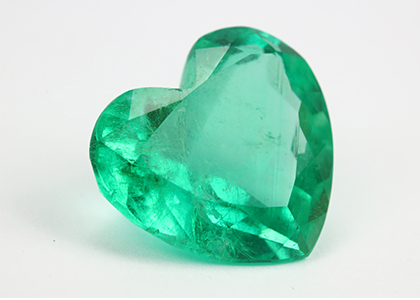 The heart shaped cut is in essence a pear shaped cut with a cleft at the top. With 59 standard facets, this cut can be very fiery and offer superb sparkle. Symmetry plays a vital role in selecting a good Heart Shaped cut gemstone. The two halves must be perfectly equal, and the cleft should be sharp and distinct and the sides should be slightly rounded. Rarely used as engagement rings, Heart Shaped gemstones remain a popular choice for earrings, pendants, and gemstone solitaire rings.
As the name of Heart Cut Emeralds says, emeralds are cut in the shape of a heart. We sell certified Colombian heart cut emeralds, which vary in weight, color and crystal. We are able to provide heart-cut emeralds ranging from 1 carat to 150 carats or more depending on our stock. Heart-cut emeralds are widely used in necklaces so it is not uncommon to find Heart Cut emeralds of a 100 or more carats. Prices vary depending on: Weight, color and glass.
Keep in mind that the larger the emerald, the less likely a clear emerald will be.
Manager
WE HAVE ALL THE EXPERIENCE TO OFFER CERTIFIED EMERALDS OF VERY HIGH QUALITY AND 100% NATURAL AT THE BEST PRICES.
Please indicate the qualities of the emerald of your preference, our priority is the total satisfaction of our customers
KNOW OUR EMERALDS CUT EMERALD CUSHION OVAL DROP HEART CABOCHON ELONGATED FANCY BAGUETTE ROUND SQUARE PEAR