COLOMBIAN EMERALDSSMARAGDEالزمرد祖母绿ÉMERAUDESברקתपन्नेSMERALDIエメラルドSMARAGDENSMARAGDERزمردИЗУМРУДЫมรกตZÜMRÜT CERTIFIED
Emerald cut Emeralds from Colombia

It is too difficult to cut the Emerald. Before cutting, cutter should plan all the things for the cutting of Emerald gemstone. Emeralds have a lot of cracks and this makes them very fragile. Corners should be cut in manner in order to make them stronger and durable. This cut is now known as Emerald Cut. Many times the rough emeralds are polished and set in jewelry.
Emeralds are cut in many ways but in particular they are usually square or rectangular. We commercialize Colombian emeralds, which vary in weight, color and glass. Our certified Colombian emeralds vary from 0.5 to 150 carats or more (depending on our stocks), which we have classified by color intensities "DARK GREEN, MIDDLE GREEN and LIGHT GREEN", and with different crystal clarity including the finest emeralds "bluish green"
T
his cut is called emerald cut, most emeralds are cut into squares and rectangles that makes it one of the most popular cuts and gives it that name. Keep in mind that the larger the emerald, the less likely a clear gemstone will be. Emerald cut is a faceted shape. The carved forms are used to cut the emerald gemstones that have a crystal clear clarity to obtain a reflective effect that allows the entrance of more rays of light giving a bright but intense effect.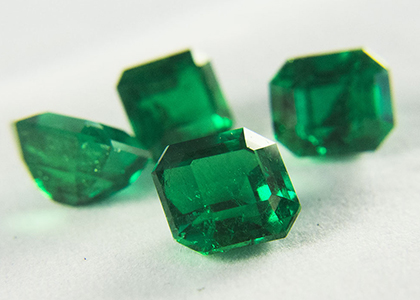 This is also known as brilliance. The carved forms have a crown and a pavilion. In the crown is the face of the table and the main face of the emerald, this is the face visible when holding the emerald and covers half the area in the crown. The Pavilion is the tail of the precious stone cut in such a way that the light bounces back to the main face in the crown of the precious stone, in the pavilion you will find the apex, the background of the precious stone cut to be a Pointy Edge
The Emerald cut is achieved by cutting parallel rows of facets to stripes or steps and this is the reason why this cut is also known as the step cut. The crown of an emerald cut gemstone has 4 side facets of the crown and 4 corner facets of the crown. The canopy has 4 facets of the canopy side and 4 facets of the canopy corner, these facets are cut in a way that they end up in a "line" at the bottom of the gemstone to properly reflect the light. Emerald cut emeralds are used in a wide variety of jewelry pieces, such as rings, engagement rings, necklaces, earrings, bracelets, dumbbells, crowns, tiaras, and many more.
WE HAVE ALL THE EXPERIENCE TO OFFER CERTIFIED EMERALDS OF VERY HIGH QUALITY AND 100% NATURAL AT THE BEST PRICES.
Please indicate the qualities of the emerald of your preference, our priority is the total satisfaction of our customers
KNOW OUR EMERALDS CUT EMERALD CUSHION OVAL DROP HEART CABOCHON ELONGATED FANCY BAGUETTE ROUND SQUARE PEAR